We stock a large range of 1.3mm gauge polycarbonate in various lengths. Each sheet covers 1m after overlap. They are available in corrugated or box profile format. Both have the same qualities, cover the same area and are as clear as glass. There is no difference in price, it simply comes down to choice.
When inquiring about a price, please state which option (Option 1 or Option 2)  you would prefer and your location if you require a delivery cost included in the price. 
OPTION 1: Single Skin / 1.3mm Box & Corrugated Polycarbonate
OPTION 2: Multiwall Clickloc 16mm Polycarbonate
We will be happy to quote!
Here is just a tiny sample of recently finished customer projects:
| Table Header | Table Header | Table Header |
| --- | --- | --- |
| | | |
| | | |
| | | |
| | | |
Some information on our long-life polycarbonate
Strong and hard-wearing Marlon CS is a popular material for use in projects around the home and garden. Suitable for use in extremely hot or cold conditions, clear options provide high light transmission and solar controlling tints provide diffused light in hotter climates for swimming pool covers, canopies and pergolas, car ports. Light in weight, Marlon CS is very easy to install in a wide range of D.I.Y. applications. UV protection provides a long-lasting sheet which will continue to look good for many years.
Strength & Impact Resistance
UV Protection & Weather Ability Marlon CS
Long-life corrugated & box profile polycarbonate glazing is 200 times stronger than glass and highly resistant to impact damage making it the ideal glazing material in a wide range of applications where the sheet may be exposed to risk of hail, vandalism or accidental damage. Its strength is maintained over a broad temperature range (-40 to +130˚C) making Marlon CS Long-life suitable for use in climates that experience hot or cold temperature extremes. 
Excellent Light Transmission & Solar Control
Natural daylight has been proven to have a positive effect on the internal environment of many buildings. It can contribute towards a more productive environment in retail stores, maximise crop yields in horticultural applications and promote healthy grass growth on the pitches of stadia and sporting arena. Clear Marlon CS Long-life can achieve almost 90% light transmission making it ideal for applications requiring maximum daylight.
Marlon CS polycarbonate meets the highest classification of European testing (EN13501) and in the event of a fire it will soften and open, allowing smoke, heat and gases produced by the fire to escape. This 'venting' property means that damage within buildings can be limited.
We will be happy to Quote and Advise!
Click on the link below to see the Polycarbonate sheeting Product Data Sheets: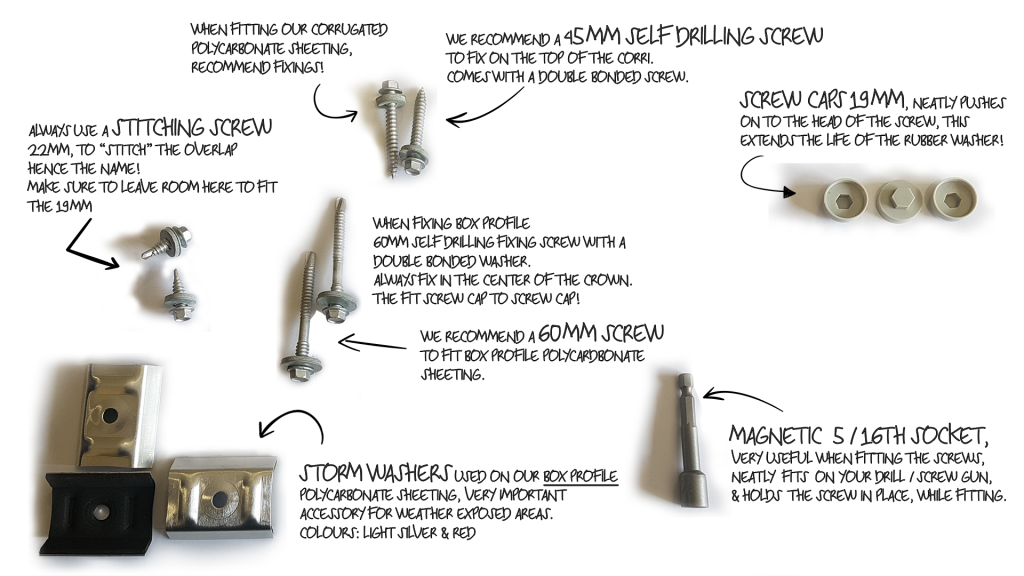 If you are fixing your sheets to light or heavy steel, that's no problem, as we have screws to fix to all types steel as well. Our polycarbonate sheets will sit on steel just as well as on timber, whatever you choose.
Why Storm Washers? Storm washers are used for crown-fixing of box profile single skin sheets. They are produced in aluminium with EPDM sealing to provide a more stable roof covering with a better load distribution and an improved wind uplift resistance. The EPDM has high pressure elasticity and good resilience thus offering an important additional sealing against the ingress of water, where there is expansion and contraction of metal. Additionally, during installation, it prevents the deformation of the covering that might be caused by too tight screwing and contributes the screwing always in the middle of the crown.
If you are doing a D.I.Y. on your pergola, canopy, carport, this 5/16 little tool a magnetic socket is extremely useful and when your finished, it will do many more DIY jobs around the house.
Our iFix Ruspert coated range of self drilling screws were designed in house as a quality alternative to the standard zinc & clear, zinc & yellow plated screws on the market. Screws tested to withstand a minimum of 500 hours in a salt spray. The usual size is 66 mm long to fix our sheeting to timber, and comes each with a bonded washer and have a 3MM EPDM rubber for better sealing.
Stitching screws are also required, as their purpose is to "stitch" the overlaps, hence the name.
We generally supply a very light grey coloured 19 mm screw cap which fits over the screw head when in place, The cap extends the life of the rubber washer even longer.
These are used as bird stoppers, and they sit on top of the sheet underneath a flashing. It also prevents the wind from driving the rain back up the sheets on a wild day. Profile fillers are only used if you are putting "flashing's" around your pergola sheeting.
Flashings, designed for your project, with many different colours to choose from.
We can design a flashing to fit on top of the side of the first and last sheet and down the side a little. This gives your finished project a design/look, and it also helps to protect the sheets from being becoming loose, in very strong prevailing winds.
We will be happy to Quote and Advise!